This album is the latests releases from Mat's Tip on the ambient ground, mainly inspired by Tim Hecker's Radio Amor this album explore new sound territories, vast detailed soundscapes with warm analog tube amp electric guitar going through various effects machines, creating long pieces of ambient like texture songs.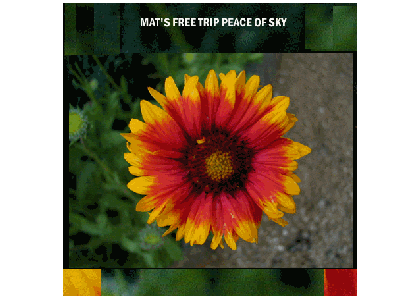 This album is as well a dedication to the Beat scene of the 60's and to tribute to Yoko Ono's art book Grapefruit with performances inspired by the book such as Cut Piece, with recordings of cigarettes and paper cut.
The epic sequel of this work is Sky Piece following The End Of Time, long epic ambient song with live recordings of rain and one take recording techniques with single instrument and a lots fo tape, selected works goes on the four CDs that makes the ambient concept serie with slow evolutive pieces and special spectrum of frequencies with improvisation in the sound electronic evolution.
Note : the double LP version of A Free Peace Of Sky and Sky Piece had been released by Dubplates and Mastering at Berlin and features a different tracklisting than the CD version of those albums with previously unreleased and different track timings are featured on this version. You can download the double LP on mp3 format with unusual high quality for free on this website
About Negatively Entropic, the song came from a forthcoming EP by Mat s Trip and is actually previously unreleased, this is the only song to have been overdubbed and mark the end of the one take recording area, the song is very textured with many layers of guitars, the forthcoming EP will countain 4 titles with 27 (the song) and many more ambient soon.
All the downloads had been made available under licence provided by Creative Commom in accordance with aristic copyright laws, you are encouraged if you like the songs and if you want to support the artist and the independant music to make a donation of the value you want through Paypal. Those records are available as downloads in their full lenght version through this internet website and with the aim to reach a new audience through this media, it is a overwhelming feeling that internet is a share tool and a media that allows to independant artist to touch a new public and to communicate their music to the broadband audience.You can download those 3 full lenght albums almost for free on their CD/LP versions.
The principle of the dubplate release is that you can download the songs on Internet, so abstract/concrete won't have to distribute the release but only digitally on MP3 with high sampling freq. on correct quality, even if the release is made on Lp aster as unique pressing, the song could be duplicate through this website and so we distribute our songs via Internet only