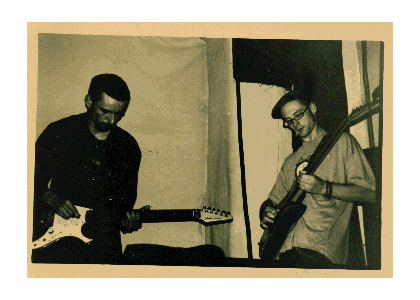 The alternate takes album from Outtakes is a CD-R released just before the LP release was issued in limited copies and coutains alternate takes from the LP records songs and as well previously unreleased songs classic from Outtakes live such as Mexico City Blues (for Jack Kerouac) and improvisation ambient with footnotes to Howl (to Allen Ginsberg) (instrumental) and as well beautiful full lenght improvisational soundscapes. It might be issued as abstractLP02 in 2014 as a triple LP professionally mastered & DMM might be cut at Sterling Sound, NYC by Steve Falone & mastered by Harris Newman at Grey Market Mastering at Montreal, Quebec, Canada - It might take the form of the original tracklisting including two improvisations on a 2 sided 10 inch vynil ; an early version of mexico city blues (for jack kerouac) recorded october,25th 2005 as a one sided 12inch & to finish a double sided 33.3rpm including Mexico City Blues (for ajck kerouac) recorded May,9th 2006 with a tming of 14'22 & also a spoken word ribute to william burroughs with his words from Junky, confession of an unredeemed drug addict first vocal rack ever, obviously overdubbed and mixed with vinz at abstact sound we both do the vox, electric gtr and fx, igor doesn t appear on this 18'41 piece titled G sunset in the interzone with great sounding & overdubbed engineered with cubase vst - so this will be the future abstractLP03 but as you might have read it s possible that the end of time mat s trip recording w/o overdubs with elecronics (outboard fx loaded withmany gtr, a lot of feedback and waves coming might be released before tis triple LP
If you like those songs and if you download the full album you are encouraged to make a donation on Paypal.but for instance you can only download one or two track from this unofficial abstract release (no catalog number)
This album countains classic songs from Outtakes repertory while playing at live events the last years of performance. Footnote to Howl was supposed to be on the LP record but because of side timings and sound quality the track had not been released. You can find on this album good takes from those songs which has been selected through huge audio files of Outtakes because of the permanent recording of every session we produce with higher production every time as it grows (when mat was on brooadcast and airplay, radio DJ) he buy a lot of sound gear, microphones, DI boxes, audio solutions,rack of outboard fx, a new 16-tracks instead of the old 8-tracks with whom we did quite a lot of recording thought in good sound quality, autonomously. The sessions took place at abstract soundscapes studios (studio A) and we have recorded every outtakes songs so many times even during our rehearshall for a live event or just to compose and arrange our tracks with improvisational parts in the middle of carefully written partitions, most of the time with standard tunning, and i guess there was tose moments of sound on the tapes that was an epic improvisation that took place and give birth to instant composing songs. Sometimes it was awesome visit our studio A
This album had been made available to communicate via Internet our rare songs to an audience, this CD had been unreleased and it is exclusively present here on Media website for free mp3 download powered by MediaFire, if you like the songs and download them all you are encouraged to make a donation on Paypal.
Find here as well exclusive mp3 download

unreleased Side C of the Outtakes LP album released in 2006 with two tracks for a Side C. Not pressed because of production issues but yet fully mastered with one of a full blast of rock noise with outtakes high in the sky, enjoy this new version encoded at 320kbps You can also

download Side B of the Outtakes 33 and a third RPM right hereAlso encoded at 320kbps MP3 HQ (high quality) lame encoderThe current LP 140g virgin vinyl self titled debut release is a two sided LP album spinning at 33.3rpm, stereophonic, DMM mastering 12" audiophile quality. All tracks are given in full mp3 quality and full lenght, the tracks are encoded in 320kbps stream & download for extreme audio quality. Enjoy those recordings.
First Outtakes LP album had been mastered by Harris Newman at Grey Market Mastering in Montreal, Quebec, Canada and we were so pleased by his skills & the sound result he gives to our home studio sound (16-tr at the time) the spirit & the sense of a kind of great LP production. By the way when we saw it was serious and that mat buy more sound gear with his radio broadcaster, radio DJ job that we re record the b side with more production, and it takes the form of a 17'57 improvisation (edited) where there is parts in the construction of the track an additional intro i record and made plus switching to this kind of special track, yet it was fully improvised but sound pretty good and most of all have a sense of quiet feel, Vinz did his 'desertic blues' moments when he plays just with ib (igor) and it gave a sense like if there was several track inside this huge baby on mastertape, by the way of course Harris did a great job and everybody was happy with it, even the side that we don t pressed, I recently relisten to it and was amazed by the timing of the noisy part, it was incredible and wth great sound despite our 8-tracks as Mr Newman said 'it has low fi esthetics' and he treated that in a way that was nice for usĶ. By the way at this time, if you find a record store in Toulouse(31) no doubt you will find the new version of the LP countaining a unlabelled CD-R with a recorded live performance on 16-tracks at 'aletrnative rouergate' in january 2006 just before the LP (the tracklisting is below) that s fun because technically there wasn t any microphone connected to the mixtable and so ther is no applause at the end which seem strange and space but that s ok, at this time the same mastering engineer will professionally process this CD, so now it s a LP + CD + full download in FLAC or MP3 at 320kbps of the whole album, and also if you buy a physical copy you get to the single club subscription for free every month to yr mailbox on digital and for free so sign on send ann email to orders.abstractsound@safe-mail.net to subscribe for free, we can even send you the back issues (it just started out june, 13th 2013 with first issue, now second issue with unreleased split between SKLPL & Mat s Trip will be born, it s a zip file (with add l DivX from the bands, high quality mp3 encoded at 320kbps. The Issue 1 of single club started june,13th 2013 with an outtakes unreleased single with two tracks : a long version of 'brume statique' of 13.00 one of the longest form of execution for a track about 7/8 usually and an impro tape just before we disbanded in 2007 of 5.21 plus two DivX videos (unedited) wher it shows Outtakes performing live (in black and white, 1.85:1) at la halle at vileuf (12) at the art exhibit de gens pour des gens' and it looks nice, it was a seated concert, most was improvised and it cut at the end on a quite famous theme, then again an attempt to runna MD thru the outside of master had been made, but he MD was on battery and it stops after 20 minutes of recording or so it s not one of the longest live from outtakes
The limited 500 LPs are still available thru the web, on our website, on record stores, and you will got one free with every purchase of CD/LP on this website
And as well get the full recording of January 2006 live at Alternative Rouergate I in Villefranche, France (french local TV France 3 Sud did a short subject on this event waouh a media coverage as soon we find it on you tube we will add this )
All right ! so this Outtakes 2006 live was recorded by Mat (who also plays the guitar during the set, all right he was the 2nd guitarist and his effect fucked up in the final noise no sound during at least 7 minutes oh my god OMG)on 24-tracks at Villefranche, France during Akortribal s festival of sound and sights had been encoded from the original mastertapes to FLAC & MP3. FLAC is a new Free Loseless Audio Codec playable with WinAmp, Jet Audio and many other major media playback programms) You can

download Outtakes 2006 live in MP3 for free (Warning : the file is quite large avoid slow connection DSL strongly required) We will put the two sided LP in FLAC plus many more recordings very soon encoded from the original WAV files mastertapes If you enjoy this spacial psychedelic experience you can eventually make a donation at Paypal or buy our LP record at special low price of 13.70 euros (see below)(only few hundred left so be quick)

Download Outtakes live recording in FLAC right here if you enjoy this special psychedelic stereophonic expÍrience you can eventually donate to us (the artists) via Paypal no fee just good sound and it s free ! enjoy the better quality of sound recording remastered from the original source files master tapes.
A note to our French webster : the download on this website are legal because the artists (copyright owners) have agreed to put the files for free download under Creative Commoms licences (see above)
Item : Outtakes LP 33 1/3 RPM 2 Sided 12inch vinyl LP special mid price 13.70euros (in stock) for GEMM orders (USA) we have to lower the price of the LP to 7.66 eur because of FR postal rate that are outta price for outside EU (they don t took the same pricing (because they used to cinsider the 'letter' stan,drd for payment now it s mail that you can follow w/ ref number and it cost a lot so it s normal that we have lower the price to maintin low price on our LP, by the way don t pay over 16/17 euros by LP (even if there's the CD) insider we saw it at 22eur at amsterdam etc...so we try to maintin low pricing, as the 4.50 serie on death of long outta print CD at low price that still rock ! see death666 home and about mp3 (for full credit and for more info)