abstract/concrete recordings welcomes you the Media Archives section more designed to fit the need of abstract sound production, with a bunch of Digital Realease, free legalm download (to our FR viewers this is under a CC licence and this is not 'outlaw' downloas (as you may have noticed or not the sacem, the ascap th e music ppublishers spociety or group beguan to be furious against mp3 even in FR news against downloading enter the penal code with serious legal issues so don t worry this is free lgal download
As you might imagoine since the last upgrade (with legal issues w/ our MP3 data base, the stream get erased and the down has to bee revised in many ways) for example there is new encoding in higher fidelity for the three sided project of Outtakes S/T 2006 33 1/3 rpm release, firstly the shop around toulouse will be reloaded w/ a new version of the LP featuring a live CD w/o applause (a technical thinbg we re talking about this is ..well strange but nice in any way soon to be mastered professionally in Canda by Harris Newman to fit the sound of consistant help thru the Lp release process lots of thanks greymarketmastering dot com
Also Outtakes latest CD before the LP run is fully available as a ZIP file plus many stuffsthe digitall promo pack will be revised in audio etc w/ add l artwork videos & also a free promotional sampler for june 2013 will be available a double compact disc, one is a CD rom the other is half data half audio containing titles from the forthcoming LP issue of 2009 compil for the ten years of the label death, same thing for abstract in 2012 we still work on mastering issues with all the differents sources : Mini Disc, cassettes, 4 tr tapes, rehearshalls, live rec w/ mic &md from the audience, full 24-tr, also 2-tr correct live output, some lost and found rare rec of many bands (on faulty hard drive hopefully i maniacally back it up to DVD and to a HD also) anyway here is a list of what you can newly download (for free) you can make a donation on paypall of the vlue you want to support us if you want (but it s not necessary to download the files anyway but gives true support for financing support of our cost effective projects and all, it s a circle and as indie label linked w/ few distro (most on death) we have to do everything ourselves, we are happy to sell you an album in physical LP 33rpm (we have multiple items in stock) you can get a best price at http://abstractsoundrec.gemm.com but the cost of shipping is very expensive outside Europe (specially to North America) so count about 13 euros for the LP/CD/DG album -
Outtakes 33rpm Side A encoded in 320k from original mastertapes download here



Outtakezs 33.3rpm Side A (FLAC version) encoded in FLAC (free lossless audio codec) playable in most of all web media players such as songbird, jet audio, itunes, winamp, window media etc la qualitée sonore est impressionante (bien mieux que le MP3) par contre le téléchargement necessite plus de temps car les fichiers sont plus gros (connexion ADSL nécéssaire) download here



Outtakes 33rpm Side B encoded in 320k from original mastertapes download here



one of the most nisy track recorded perfectly mastered an old tune 'il est temps de se sentir libre' remplacé en face B finalement par les nouveaux enregistrements avec plus de moyens techniques sur 'electricity pole/sept waves (17.57) to feel a little more free (1.07)
Outtakes 33rpm Side C (exclusive to internet) encoded lame encoding 320Kbps, Side C not pressed because of money issue and sound quality considerations (exclusive to web as 'footnotes to howl' (see artist page here) for the song with a ginsberg poem (our long time Word Beat project might take the form of 3xLP, i think end of time will be released sooner as one sided 132" labelled abstractLP03 - this sound tape had been mastered though (by mister harris newman in canda, montreal, quebec) platting in CZ by GZ digital media, DMM made by engineer unknown - you can order the physical album (see Outtakes pages /media/mp3album.html - encoded in 320k from original mastertapes download here



credits for Outtakes 33rpm 12" 140g LP : sold at amsterdam,concerto NL, Brussels, Veals and Geeks, B, Tonevendor, sacramento, CA, US ; cheap thrills,montréal, québec,Canada, Records Breakers @ Chicago, IL, US ; Toulouse (31) le laboratoire, paul emille vynil, vicious circle, gibert joseph, croc vynil,FR etc
soundtape recorded and mixed by mat on 16-tracks at abstract soundscapes except 'brume statique' recorded at MSC - all music written, performed by Outtakes - at this time : igor : keyboards, bass lines, vibes ; vinz : electric gtr & fx ; mat : electric gtr, fx, octaved bass on 'electricity' - additional personnel : loulou : add l distorsion on 'brume static' plus background noises ; Fred : add l drums on 'brume statique' lifted up by mister newman - mastered by harris newman at grey market mastering download here



Patience was the last outtakes CD before the LP pressing, it has been recorded between 2003-2005 thru all outtakes soundtapes, then assembled with various takes to create songs and athmosphere, more close to contemporary field with more players and more layers of sound - perfectly mastered, mixed at abstract soundscapes by mat year 2005 - music by outtakes - at this time : igor : keyboards, moog, analog synth polyphonic ; clem : electric bass ; anais : clarinet contralto ; vinz : electric guitar and fx ; david : drums ; mat : electric gtr and fx, real time mix and rec to digital - assembled night of March, 15th 2005, finished two days later as a full lenght album, giving up for free under CC licences
Our website section (hosted by death platform, owned as well by abstract sound - but we deceide to split in two label as the techno album and punk records on death doesn t fit foir experimental outputs so after two co release we totally split abstract & death so abstract is boorn in 2002 and death in 1999 juszt before y2k w/ massive hc destruction some long outta print record will be re-issued (art of skalping, ultra noisy mixdown, etc some good stuff from anti beat(2006 alb 4 tracks attack) newly found rare mastertapes of rastapopoulos first no tech band that sell out quick and moove on but we are working on a new realease with a magic cover (not made by phillipp virus) but very fucked up by faulty HD on computer nice and mazing design, happy w/ it so you ll see see the main website death home on yr right)
We give the opportunity to got free full downloads of latest albums from Mat's Trip and Outtakes, find as well ultra rare tracks that have never been released and as well full albums downloads for free. In its improvement of the website hosted by death666 you will find this cool mp3 music player in the shape of an audio cassette streaming wonderful rare songs in audio.The music contain in the website had been released for internet under a Creative Commons license. Much more rarities to come soon on stream from the huge abstract sound archives.
Download mp3 audio from the late albums on abstract/concrete and as well rarities from Outtakes Rehearshall sessions, live sessions, albums released only on CD-R on few copies, right now right here on the web, the media downloads are poered by MediaFire. To come very soon as well a audio podcast who will give us the opportunity to distribute our content. You can browse the songs and albums in the MP3 & album contents.You can as well Partcipate to the Sampling Plus campaign please visit our blog on Wordpress.

Download Outtakes 2005 Live in MP3 and

Download Outtakes 2006 live recording in FLACThis audio recording is now available in FLAC the new codec which has really better sound quality and more large files, this lossless audio quality file & the MP3 HQ (high quality) countains the live sequence as played in villefranche january 2006 including all files in this new sound format codec as played by Winamp and JetAudio. To come the Outtakes LP 2 Sides plus two unreleased songsin FLAC plus Mat s Trip ambient masterpiece of sleeping music The End Of Time plus many death666 artists to be encoded from the original mastertapes in FLAC including The Anti Beat late split CD & 2006 Album
This section gives more room to abstract/concrete artists within the main website and open many download possibilities as well as buying the albums, we give away the songs and you can donate, but we like our music to be listened so we give away, in a idea to communicate the music and to give to the music a kind of life/light.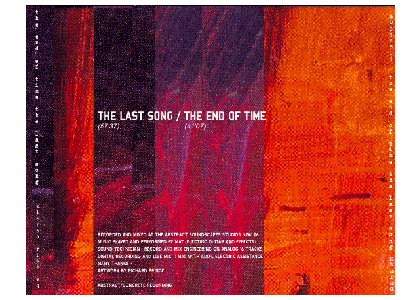 This is the back cover artwork of The End Of Time double CD release version 1, the LP version had been cutted out on dubplate, the 40 minutes song had been cutted in two pieces to fit the LP record side timing, the full album is availbale on MP3 high quality for free in full album download. The epic songs that lenght about 40 minutres each had been recorded using RIAA Equalisation and a special live set recording configuration including rain sound recording made live during the performance all set in one take recording principle with a maximum of effects and guitar and digital electronics you can have the full album on download as well.
This website section is dedicated about abstract concret artists that's why the design is so different tha the main website, this is a web base for independant recordings, mainly ambient, experimental and rock outputs with bands such as Outtakes with their debut LP made quite a debut album, you can find from those artists additional MP3 muisc from rare takes, outtakes, live recordings and alternate versions in full Mp3 download for free.
Many videos are avialable in the video section featuring the wonderful static experimental films by director Leo Tsuou and Outtakes music, as well filmed performances in Southern France in 2005, digitalised in black and white by unknown artist, the live videos takes place during Akortribal annual contemporary art exhibition and the band play in the exhibition, quite an experience, the video has been revised to 16/9 and also Cinemascope format
Abstract Concrete announce brand new MP3 HQ titles with new LAME encoding in 320Kbps & more FLAC, with Outtakes rare songs in new audio format soon and additional mt as well both abstract/concrete artists