Outtakes Tour Eclipse 2005-2006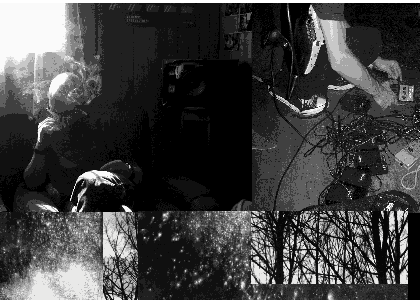 We played with Outtakes through year 2005 and 2006, making small concerts in all the places we can in order to try to communicate the music to an audience, which you don't have when you only play in studio situation, which means record your songs and rehearse only that way.
So we start trying to play at small place, Mauriac sound community was the first occaion to perform for an audience, the first time that we play there was arropund five people in the end of the afternoon in a festival-like concert where the evening was very successfull for the other bands. Then I think that we landed at Toulouse for a concert on a squat, it was a day of great speed, with runnin around and making a lot of road in the day and taking the instruments and all to perform, hoping you haven't forgot the important thing that will make that you have no sound, for example a DC adaptator or some kind of electrical problem. We always played without baffles or sound speakers which is strange but works well.
In Janvier 2006, for the association akortribal we played in a festivallike concert where there was at least a lot of people for this evening show and all goes the way it was planned which was very satisfiying. We played on huge baffles without speakers directly linked on the instruments, I did the song mixing plus the recording and as well performed for this show which was really amazing. I think that the next place we hanged was Toulouse for our last appearance live and the opinions of the band are very opposite about that strange evening where the hard pressure of the road and the stress of the previous days makes me feel kind of sick for this show which was our last programmed in southern france. I remember that we beguin the set with a full noise attack (we wished people will think : so this is what they call music ? and then the beautiful gestures of guitars and the little chords played with simple but touching moments that was the idea to change people mind in a sense, to surprised them very much and maybe we touch some souls in this vast concert. There was two scene the A scene wich was a real stage and the B scene (were we played) on the ground (becoz of changing between bands) which was more or less the MSC mauriac scene well anyhoo that was a good concert (i did engineering live for the 3 bands on this stage and was trying to hide behing the band for my sound not easy at all when you are behind the live band. One more rememberance : it was exiting, we were deeply thinking about how this will go on, stressed thata fter 40 minutes playing no one will clap (which was not the case, the disc recorded the live but no mics were used so) At the end we did a "encore" & the organisators came and said "please not a 30 min song" we did mexico city blues for jack kerouac and played 15 min (mexico city is a great book of poems (the only by kerouac?) and is about jazz music.)
We performed as well at the first akortribal art exhibition, which was in 2004, artistic works hanging around in the "halle" of villeuf (12) the day it was exhibit of art and free coffee and time to "pose" yourself around w/ artists & friends & audience who came (the entrance + concert was free) So the day time was all about art, the night time was all about music ! It last for a wekk (if I remeber correctly -(the name of the exhibit was "de gens pour des gens" which means from the people to the people)) So saturday night on the middle of Villeuf (aveyron,12) (next to the church - the priest didn t like the sound and shut the concerts for the next exhibit too bad...(but the same association organize big show up in a big place for this kind of sound ?!!)) So we played around 10pm and at this time there was also a drummer in the band (the bad did evolve with time but always i a "collective" sense - we show up next year with 6/7 members on stage but it wasn t as gret as the extatic bliss of the first show . This was a seated concert, and parts of the conecerts was filmed on diital video, some of the sound had been recorded (but the mini disc run out of battery so it last only 20 min instead of 1 hour but anyhoo the sound was mastered to tape at cfm radio in mom du cul then remixed in stereo (this abstractCD004 I think). So about this show the lightning was so great (not a lot of light) with a good sound (nitrous IB brother lined 2 x 8 tracks machine to make a fu--cking great sound w/ the instruments specially guitars because we never played on loudspeaker (all was linked in DI direct inject boxes) & the sound is much better...to us.)) . The night came and the people was there , the seated concert wwas a good idea, people could a t the tuime drink ad smoke in the concert & that was really great...I remeber fragments..but all was recorded in video (pparts of the live show) & it was very progressie..I remeber I was maybe a little bit too much inside my trip and Vinz sometimes had some problems to follow the direction of my guitar sound (becoz we played 2 gtr so it have to be in the same scale, harmonic etc and not sound like quacky ducks !) . So this was I think a first concert w/ the four memebers..before the drummer leaves & we still in trio for a long time..until the "end" !
The second time we played at this art exhibit (which is different then the "alternative rouergate" w/ a lot of people it seemed so flat and everybody were on their stuff, the bassist at the time didn t give a shit about music, then we were like 6/7 on stage and it goes i all direction, V I & IB were very demoralised about this event in the end o f the afternoon (for sound poblem of nice neighboor (church) in the night) so it was kinda of trange..noiw the exhibit go on it is in its 6/7th edition with almwys artists from all around the place with very nice contemporary art (I loved the crashed car in plastic/cardboard printed on the exhibit & also the TVs with those crazy images and all the "halle" in villeuf is not open at all it is all with glass all around so it s a very nice place (the city of villeuf doesn t use it for mrket like in figeboule (where it is open well here I go...so stop . Well I remeber as well the big show up of laternative rouergate (if you are nterested in this great active association that wors on collective principle (anyone have a word to say and is respected..you can contact them at akortribal at laposte dot fr)Thanks to them, no thanks at all to you know who no let it go !
Then we record the LP album at that time and the record was out at that time, end of 2005, and we put a lot of energy in the song processing of making music, it takes us every week one entire day to set up our tracklisting which lenght about 45 minutes and was composed of four or five songs, very long epic tracks that we unchained during the live performance and the rehearshall making a long epic track that was announced as a long wave lenght from the beguining til the end of the concert without no stop between tracks. The Lp was issued on May 2006 with a great delay in pressing (and some additional problems : broken test pressings and much more money needed they scamed us anyhoo) This LP was limited on 525 copies & we don t think we will ever made another pressing. So the DMM metal of the disc is somewhere in GZ archives in Czech Republic. The LP was mastered in Canada, Quebec by Harris Newman, a great sound engineer that helped us so much in the making of this record (erased some prob of sound mixing with cubase and made the sound so beautiful) he told us it was low fi esthetic and we could never thank him enough for the work he did with us. The LP is abstractLP01 and is printed on varnished cover (needed plastic) and is a 150g virgin pressing DMM direct metal mastering is the best cut you can get nowadays (some studios are speciallized in DMM)
I couldn't say that this experience wasn't successful in the sense that we hit some kinda of audience more in the squat like athmosphere where waves of calm were warmly accepted. And after all even if we didn t play now for some years..the music still there, pressed, preserved and that s immortality to us (in our music of course, our mind and body are into this, the emotions of the moments, the divison of time the long process of building songs and more improvised textures.
Outtakes Sound Recordings Material
we are deeply sorry for the cheap feeling of the video Leo did a nice one check at media and video

well you will find wel documented outtakes stuiff plus a lot of downloadable tape material in mp3 HQ under a CC licence www creativecommoms org
Set List for Live Events (as a trio)
We used to perform usually the same set list with some variations in the way we unchained the songs during live performances with more or less free improvisational parts that give a unique sense to the live events. We used to play that order

Elegy For A Sacred Butterfly

Le Ciel Est Empli d'une Brume Statique

Improvisation ambient

Footnotes to Howl (for Allen Ginsberg)

Il est temps de se sentir libre

Mexico City Blues (for Jack Kerouac)

There was usually a long improvisation in the beguining and in the end with various effects of noisy textures, we often beguins our lives with massive noise attack specially in the more or less crowed places, or in the hardcore places we used to play.
Complete Concert Dates Archives (as a trio)
| Date | Title | Description |
| --- | --- | --- |
| June 6, 2006 | Festival | Outtakes, Marvin, Mademoiz'l |
| January 14, 2006 | Alternative Rouergate Festival | Scene B : Ass'n'Dick, Novel Optic, Outtakes |
| December 10, 2005 | Concert | Destro Mobile, DJ Dakota, Outtakes, Novel Optic |
| November 5, 2005 | Concert | Collage, Higher Electro Luxury, Outtakes |
| June 5, 2005 | Festival | Outtakes, Hiroshima Love, Ass'n'Dick, Death Buring, Lisbeth Fisher, Sickness, Novel Optic |
| June , 2004 | Festival Art Exhibition | Outtakes, DJ Dayou, DJ Dako |