Welcome to Concert Dates Archives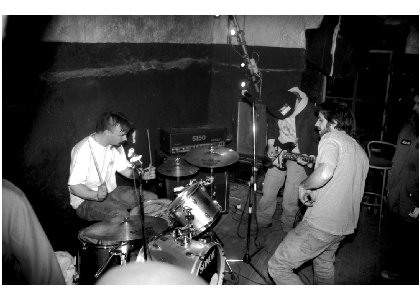 This part of the website is dedicated to text, instant feelings, anecdotes of live events, instant ideas, rememberances all put together with as a comom link of a passion for music or a dedication to it. Those various texts give the impressions as musicians or concert organiser for the music on the road, the expressions of life as a musicians, the concert anectodes, the feelings surrounding it.
This part will give a complete archive of the live events that occured in the hardcore punk field, throught the performances of many bands through those evenings shows. It countains a complete schedule of archive that goes through 2005-2007.
The content of this website, including text, is under licence by Creative Commons licence.
Photographic Archive Material
Concert Schedule Archives
Here is a complete archive of the evening shows where punk hardcore bands had performed during the years 2005-2007. The project of this website is to keep a precise tracks of live evnts with the bands line up. To be completed as soon as we found any other fly archives or various memories of past live evnts.
Complete Concert Archives, Set Lists (incomplete)
| Date | Title | Description |
| --- | --- | --- |
| June 28, 2007 | Concert | Rene Biname, Destroy Buster, Life Is A Lie, Dissiped |
| May 12, 2007 | Concert | Proxenet Holokosst, Barbie Genocide, Gorgones, Mediocracy, The Anti Beat |
| April 29, 2006 | Spring Festival | Michel Platinium, Primal Van Kirk, Death Burring, Ass'n'Dick |
| March 18, 2006 | An Extreme Night | Zubrowska, 1984, Trashnasty, Anti Beat |
| Febuary 25, 2006 | The Extreme Freeze Terror Night 2 | Aghast, Cirrhose Attak, Ass'n'Dick, Various Guests |
| May 27, 2006 | Concert | Charogne Stone, Sickness, Skinner, Ass'n'Dic, Anti Beat |
| March 31, 2006 | Festival | Craft, The James Borwn Hide Show, Fatal Nunchakoo, Anti Beat, Semi Playback |
| October 8, 2005 | Concert | Hypoptalasias (last live peformance ever), Fatal Nunchokoo, Lisbeth Fisher, Ass'n'dick and Outtakes |
| June 4, 2005 | Festival | Novel Optic, Outtakes, Kro'n'Oi, Hiroshima Love, Death Buring, Sickness, Ass'n'Dick, Lisbeth Fisher |
| Mai 6, 2005 | JP2 Extreme Terror Night | 1984, Kwaidan, Kro'n'oi, Libesteh Fisher, Los Suppositos |
| April 2, 2005 | Concert | Lisbeth Fisher, 1984, Ass'n'Dick, Mat's Trip, Chicken Loser |